Mascots of Qingdao(Laixi) 2019 World Leisure Games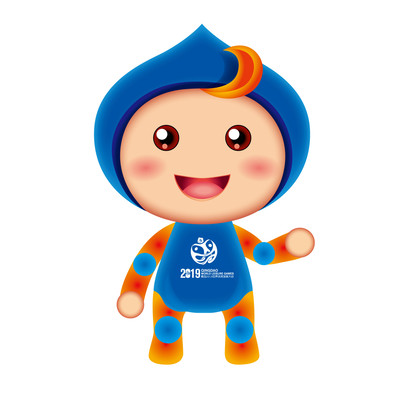 The mascots of Qingdao (Laixi) 2019 World Leisure Games is the cartoonized puppet robot image designed by the prototype of the world's only unearthed and the largest entity's largest puppet, the Western Han Dynasty puppet. This reflects not only the local traditional culture but also the characteristics of smart life and interconnection in the era of science and technology.
The drop-shaped hat represents a good natural ecology, the abundant water resources highlight the characteristic of "Green City Watery Town"of Laixi. The blue and the orange are taken from the partial colors of the emblem, blue represents the ocean, showing tolerance and strength. Orange represents friendship, which shows the spirit of enthusiasm and positiveness.
Emblem of Qingdao(Laixi) 2019 World Leisure Games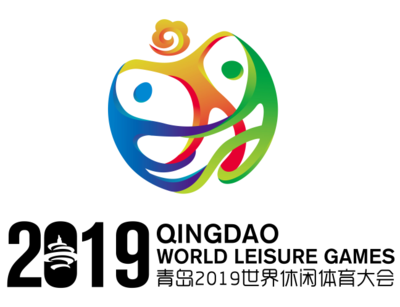 The main picture of the emblem of the 2019 World Leisure Games in Qingdao (Laixi) is a sphere composed of three people moving hand in hand, taking the theme of "Sports and leisure, enjoying nature". The sphere represents the concept of the "world". The three athletes danced hand-in-hand, which forms a cheerful sphere, symbolizing that the leisure sports fans from all over the world gathered in Qingdao to enjoy the event.
The emblem adopts a gradient of orange, green and blue. Orange represents friendship and enthusiasm, green represents vitality and nature, and blue represents tolerance and strength. The whole pattern is rich in color and full of emotions. It not only reflects the characteristics of Qingdao, such as red tiles, green trees, blue sea and azure sky, but also reflects the simple folk customs--warmth and hospitality of the host people.
The head of the centered athlete is designed in the shape of auspicious clouds and waves. The auspicious clouds are taken from the middle part of the emblem of the last World Leisure Games. They are traditional Chinese motifs and represent the good wishes of good fortune. The wave is not only a symbol of the coastal city of Qingdao and the watery town of Laixi, but also reveals the naughtiness of jumping and the cheerful atmosphere, which indicates that this game will be a colorful and beautiful event.
The text of the emblem reflects the venue of the event is Qingdao through the "The Wind of May" sculpture silhouette, which points out the geographical features from the details.